The Delorean was NOT the first stainless steel car!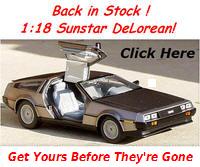 While I was at CORROSION 2002 (NACE) in Denver I had a chance to see one of six 1936 Fords that were made with a stainless steel body. The car was in the booth of Allegheny Technologies. It was a 1936 Ford Deluxe Sedan and all the body panels were stainless, manufactured by the Allegheny Ludlum Steel Division, of course. You can read more about it on the Allegheny Technologies website.
Although the stainless was corrosion free, the chrome plated grill and bumpers did not fare as well: There were definite signs of rust! (You can almost see it on the grill and on the 'nerf bars' on the bumper in the enlarged version of the picture, below.) The car had been buffed and polished for the show, but small scratches on the stainless showed the circular motions used! John DeLorean was quite wise in using brushed stainless! Fingerprints don't show as readily, and as long as polishing is done with the grain, polishing streaks don't show either!
Ford also collaborated with Allegheny Ludlum to fabricate a stainless version of a 1960 Thunderbird and, in 1967, a Lincoln Continental Convertible. With any luck, Allegheny Technologies will bring a different stainless steel Ford in 2005!