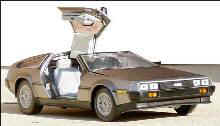 Check my review of this Sun Star model. This stainless version is Out of stock ! (10/2009) Check Diecast Models Wholesale for other DeLorean diecast models.
You may have to settle for the Welly 1:24 scale model!

There are several of the Back to the Future models available also: BTTF II, BTTF III, and BTTF III railroad version. They are about $40.