Bob's scientific interests are in the fields of computer assisted electrochemistry, potentiostat design and architecture, electrochemical impedance (EIS), and the chemistry of palladium. Bob retired from Gamry Instruments at the end of March 2008. He remains passionate about electrochemistry and he still maintains an electrochemistry information site at www.ConsultRSR.com.
About Dr. Bob . . .

Vita
Bibliography
Dr. Bob: On Science!
Bob's Brain
WHAT IS BOB THINKING?

What is Electrochemistry?


More Electrochemistry links!


Music for Electrochemists NEW



Bob's Family. They are as crazy as he is.

GRANDSON 3.0



William Robert
Guardino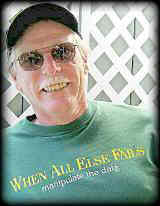 Bob at Hawaii ECS Meeting
"When All Else Fails..."