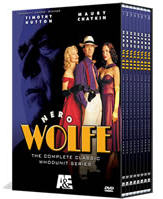 Nero Wolfe: The Complete DVD Megaset!
Nero Wolfe and his dapper sidekick Archie Goodwin are back using their wit, inventiveness, and flair to solve the most perplexing crimes.
Maury Chaykin and Timothy Hutton bring Rex Stout's beloved detective tales to life in this stylish, 8-volume DVD set. Both seasons one and two.