SJ 397 - The Bauer Duesenberg


This Duesenberg is "The Last Duesenberg" -- it was commissioned by Bauer, a German artist, using a 1937 engine/chassis. However, it was not finished and titled until 1940. Remarkably, it remains unrestored and original to this day. It recently sold at auction for $2,805,000 (after buyer's fees)!

The new owner, only the fourth since new, is John O'Quinn a Houston lawyer. He plans to open an auto museum in the Houston area to display his collection of about 800 cars, including (I hope!) SJ397!

The Franklin Mint crafted a very nice 1/24 scale diecast model of this car. I have a copy in My Collection.

Some excellent pictures of SJ397 at the auction can be found here.

A recent (Sept 2009) article and video appears on the Old Cars Weekly web site. It contains more information about Bauer's life and artwork, as well as pictures of, and info on, J397. Another recent article, in Houston Lifestyle and Homes (June 2009) showcases O'Quinn's house and Car Collection, which contains 25 Duesenbergs!
The reports of history of the car is a little confused. Elbert gives the chassis as 2405, a LWB chassis, with an owner mounted body and supercharger. Adler's book gives the chassis as 2563, but in the list by chassis number, that chassis is assigned to J530! Elbert also associates chassis 2563 with J530. I will agree with Elbert and more recent accounts -- chassis 2405.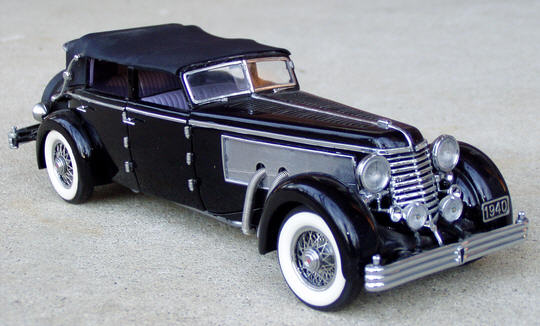 The Franklin Mint 1/24 scale die cast model of SJ397. The over-sized "duesenbird" hood ornament fell prey or an over zealous duster. Moral: Get a display case!

The history of chassis #2405 is quite interesting. It was initially a short wheel base chassis, a 1931 demonstrator. The engine had a damaged cylinder. The body was removed, and presumably sold. After the company folded Bauer bought the chassis and designed and commissioned the present body. The engine was repaired and the chassis was lengthened to the present 1531/2" length. A supercharger was added, and the body crafted by Rollson. Although the hood ornament was the typical "duesenbird," it was elongated to accentuate the length of the car, the hood in particular.
The car is referred to as a 1937, 1938, or 1940 (the year that the present car was finished and titled), depending upon whom you ask!


References:


J.L. Elbert, "Duesenberg, the Mightiest American Motor Car
", Post-Era Books, Arcadia CA, 1975.


D. Adler, "Duesenberg", Krause Publications, 2004.