Bob's Cars: 1972 OTAS Grande Prix

This car will probably be the most unique I shall ever own, as may be evidenced by it's serial number -- 0070. That's not just the last few digits, that's the WHOLE thing!
I bought it as I was leaving CalTech to go to Michigan to begin my career. It cost $3600 and came "standard" with a rear mounted 817 cc Fiat based engine that had been 'breathed on' by Abarth. California laws exempted cars with under 50 cubic inches from SMOG regulations! This engine just squeaked under. A small plate on the firewall said so!

Me, in NY, after having driven east in 1972 and loving every minute!

The steel body was designed by Francis Lombardi and was used by OTAS, Gianni, and Abarth. It had only one windshield wiper, and was only belly button high! Michigan license plate fees were based on weight, and, since it wasn't in anybody's standard books, I had to go and get it weighed at the public (certified) scale in East Lansing. It weighed 1750 pounds, including a tank of gas (it only held 8 gal!) & ME! Weight distribution was 750 lbs on the front, 1000 lbs on the rear.



Check this Dutch fan's site for more info and pictures of other OTAS's!

1972 OTAS Grand Prix S/N 0070.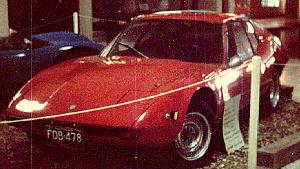 1972 OTAS Grand Prix S/N 0070. On display at an Auto Show in an East Lansing Shopping Mall
For more info on this unique marque, see AutoWeek
, Aug 18, 1997, p. 23. There was a more recent article on the "Lombardi Grand Prix" in AutoWeek, Aug 23, 2004, p. 25.