Bob's Cars: '52 Chevrolet

This scan really doesn't do this car justice. I got it from the second owner in 1971 while I was living in California. The first owner must have been the prototypical little old lady from Pasadena. The car was in pretty good shape, with about 60,000 miles showing on the odometer.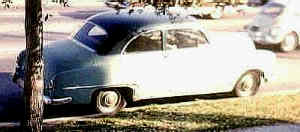 But the glove box was the real treasure! A nearly complete set of papers came with the car. The original sales invoice, the instruction card for the jack, the warranty for the battery, and of course, the owner's manual. When I sold the car I kept all the paperwork.
With splash lubrication the oil pressure on this "Cast Iron Wonder" generally read 5 psi. After I rebuilt the carburetor it got 15 mpg.
---
Are you a Chevy fanatic? MotorMint is giving away a stunning diecast replica of the first Chevrolet ever made for FREE.
Click here to get yours now!

The Franklin Mint has crafted a 1:24 die cast model of the vintage of my '52 Chevy.
1950 Bel Air®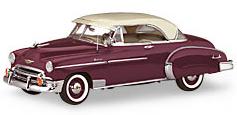 I've always thought that the sun shield on cars of this vintage made them look super cool!